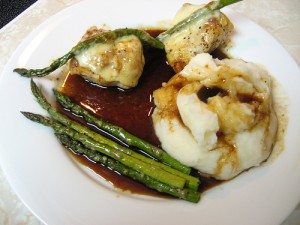 It's little wonder that the Cheesecake Factory's chicken medeira is the restaurant chain's most beloved poultry dish. With a tender chicken breast, portobello mushrooms, and a heaping of mozarella cheese, how could a hungry diner possibly go wrong?
Are you ready to bring the Cheescake Factory's chicken madeira dish to your own dining room table at a fraction of the cost of dining out?  We've uncovered the Factory's chicken madeira recipe.
Feel free to copy and cook as you please!
The Raw Materials
1 large chicken breast
1/2 lb. baby portabello mushrooms
2 slices mozzarella cheese
1 1/2 cups Madeira wine
1 cup beef stock
1 tablespoon olive oil
1 tablespoon butter
2 tablespoons Wondra or flour
1/4 teaspoon crushed black pepper
crushed sea salt to taste
Cooking Instructions
Separate the chicken breast into two cutlets.
Douse chicken with cracked black pepper and sea salt, cover with saran wrap and flatten with mallet until about 1/4″ thick.
Heat olive oil in pan and fry cutlets for about 4-5 mins each side.
Remove from heat, cover and set aside… do not clean pan.
Melt butter in pan and saute sliced mushrooms for about 3 mins or until slightly wilted.
Add wine, stock and Wondra and bring to boil.
Lower heat to medium/low and simmer for about 20 mins stirring frequently.
Sauce will thicken and become dark.
Add chicken breasts to sauce; coating well.
Saute for about 2 mins each side.
Place 1 slice of mozzarella on each cutlet and heat until melted.
Serve cutlets with sauce drizzled on top.
To really feel like you're dining at the Cheesecake Factory, pair this dish with some red-skinned mashed potatoes and steamed asparagus.
For such a tasty dish, this is a very simple recipe.  We hope you'll enjoy Cheescake Factory-style dining with very little hassle and maximum taste.  And don't forget: Be sure to check this blog regularly for more great Cheesecake Factory Recipes.